Home game Sunday, January 5 — St. Walburg Eagles vs. Wilkie Outlaws, 5:30 pm – the second meeting this season between these two top teams. Their first matchup went into overtime with Wilkie ultimately winning the game.
Outlaws lose a game but remain league leaders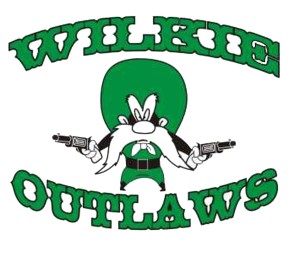 The Wilkie Outlaws and the St. Walburg Eagles were the only undefeated teams in the North Saskatchewan River Hockey League until December 10, 2013. The Eagles lost their December 10 game against the Meadow Lake Stampeders 9 to 2, and then lost to the Outlaws in overtime three nights later.
In the Outlaws' very next game, however, they also ended their winning streak, with a 6-3 loss to the Edam 3 Stars, December 20. The 3 Stars led at the end of each period, scoring two goals in each 20 minutes to the Outlaws' one.
Barrett Penner scored two of the Outlaw goals, while Mike Sittler had one goal. Rick Cey and Kyle Wagner were each credited with one assist while Derek Keller and Will Rathje had two apiece.
The very next night, at the Outlaws' annual Wing Nite in Wilkie, the team rebounded to defeat the Meadow Lake Stampeders 7-2. Single goals came from Rick Cey, Andrew Herle, Derrek Keller, Barrett Penner and Mike Sittler, while Dustin Glackin scored twice.
The following week, Edam came to town December 27 for a rematch and the Outlaws proved to be most ungracious hosts, taking a 4-1 lead by the end of the first period and scoring another five goals in the second while shutting out the 3 Stars to make it 9-1. The 3 Stars were able to score three goals in the third period but the Outlaws also continued to find the net, ending the game with a 13-4 win.
Hat tricks were credited to Rick Cey and Andrew Herle while Barrett Penner and Kyle Wagner had two goals each. Single markers came from Lorne Griffiths, Mike Sittler and Mitch Suchan.
With only one loss so far this season, the Wilkie Outlaws senior men's hockey team remains at the top of the NSRHL standings with 18 points. St. Walburg is hot on their heels with 17 points, the difference-maker being the Outlaws' overtime time over the Eagles December 13. The Edam 3 Stars are in third place with 12 points.
Upcoming games see the Outlaws travelling to Maidstone January 4 and hosting the Eagles January 5. Turtleford comes to Wilkie January 10. The Outlaws will meet the 3 Stars again, on Edam ice, January 11.