Next week's issue of the Unity Wilkie Press-Herald could be called "meet the people in your community!" Check it out to read about:
Longtime Scott SK resident, Barbara Risling, now living at Poplar Courts, 103 years old;
Courtney Bachman's adventures in Ghana, Africa; and
Faith Matters columnist Sister Valentia Leibel, now author of Heart of God – Living in the Spirit of Love.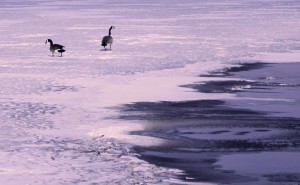 You'll also find stories about, for example, the weather, high school badminton and the Zaretzki family legacy, along with the RCMP Report. You'll see photos accompanying most of those stories, as well as some quilt photos. And check out the ads to learn about some upcoming events.
(And speaking of the weather, these geese may be having an argument, after finding spring in these parts is not as advanced as they expected it to be. "I told you it was too early to fly back," she says, while he adopts his selective hearing pose.)