St. James CWL hosted their 17th annual Pink Night in Wilkie, Sask., October 17. As always, the evening was filled with fellowship, fundraising, door prizes, information and many good things to eat. Please see the October 27 Press-Herald for a full report. Below the photo of ladies checking out the door prizes is the full text of the speech given by guest speaker Helena Long.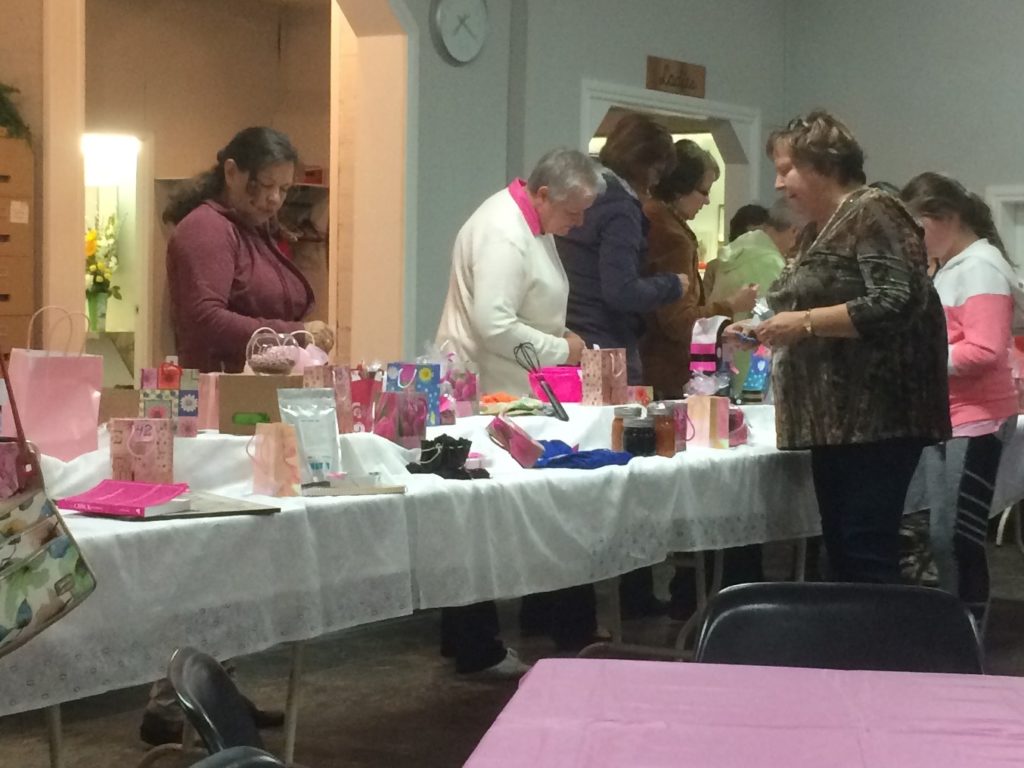 It has been an interesting couple of years, to say the least. Since the fall of 2015, I received a breast cancer diagnosis, had surgery to remove a breast, surgeries to install and remove a port in my right arm, went through several months of chemotherapy, five weeks of radiotherapy, a year of Herceptin drug infusions and was just starting to feel like myself again when I went flying off the back of a horse and broke a hip and an arm.
The left side of my body has really taken a beating. It was my left breast that was cancerous, and my left hip and arm which were broken. Chemotherapy, of course, affects the whole body but the radiation was all focused on the left side. I'm not sure if that really means anything but it does sort of seem like an odd coincidence.
I had my fall August 26 and as you can see, some 7 ½ weeks later, my mobility and the use of my left hand are still somewhat restricted. On the positive side, every week I see improvement and anticipate a full recovery.
But you didn't come here tonight to hear about my broken bones. I will talk about my breast cancer, the treatment and results, but I also want to talk about something you might not have expected to hear about – God, fate, listening to your body and trusting your intuition. I could have chosen to talk about the significance of breasts to us women, statistics or some of the latest research but I'm going to talk about trusting God and trusting yourself.
I went many years without having annual physical checkups. In fact I remember telling Dr. Bloem one time that the only reason I was there was because of her and John's nagging. Then, in July 2015, I attended a sweat lodge hosted by a Lakota elder. The evening before the lodge, the Elder hosted a tea at which people new to the experience could ask questions and learn a little bit about what to expect. As there were a few people at the tea who were unable to come to participate in the actual sweat lodge the next day, Hawk decided to conduct a small dancing exercise that evening.
To drumming and chanting, we danced barefoot on the grass. Hawk suggested we hold our hands high in the air and draw in goodness from the universe. Then, periodically he suggested we lower our hands and focus on our feet stomping the earth and releasing negativity from our body. As we did this, quite unbidden to my mind, came the thought that I was releasing bad health. As I continued to dance and the thoughts of releasing bad health likewise danced through my head, another part of me was wondering where did that come from here? I felt fine but the thought was overpowering.
I was already booked for a physical later the same month. A conflict arose and whereas normally I would happily have phoned the medical office and postponed the physical no matter how many months it took to get a new appointment, I didn't. The checkup resulted in a clean bill of health, but for the first time in a number of years, I kept the mammogram requisition front and centre and actually called for an appointment. Of note is that the doctor did not feel anything in my breasts during the exam.
My mammogram was in late September, 2015. Most of you ladies present will know the drill. After having the "girls" pressed and photographed, I sat in the waiting room while the images were checked by the technician. I wouldn't have been surprised if she had come back and said everything's fine you can go. On the other hand, I wasn't surprised when she came back and said they needed to take a few more pictures of my left breast, this time with ultrasound.
Once again, I sat in the waiting room and waited. Then I was told I could get dressed but needed to stick around to see the radiologist. Again I was not surprised. The radiologist showed me the screen with a very small tumour and some other whitish marks which indicated calcification in the breast. He said I would need a biopsy of the tumour.
A couple of weeks later I found myself at the Saskatoon Breast Health Centre in City Hospital. The biopsy proved to be more difficult than anticipated, largely because the presiding doctor wanted a sample of a very deep, small calcified spot. Biopsies were also taken of the small tumour and other calcifications.
After the lab results were received, we saw the oncologist surgeon. Although of course I was hoping for a benign diagnosis, once again I was not surprised to learn the tumour was cancerous. In addition, the biopsy that had proven to be so difficult revealed a second cancerous tumour. Although the original tumour was very small and might otherwise have qualified me for a simple lumpectomy, the second tumour and all the calcification in the breast – which the doctor said suggested things were very unstable there – resulted in a strong mastectomy recommendation.
To be told you have cancer, no matter where it is, can be a frightening thing. It certainly makes you pause and take stock of your life. I may not have been surprised but I was scared – scared about having cancer, scared about surgery, scared about losing a breast
On one of my days off, during the week when John was at work and my teenager was at school, I went for a slow, meditative walk among the trees in our shelterbelt. At that time, I had a hanging chair in one of the trees which was a favourite spot to sit, gently swing and think or pray. Not surprisingly, that is where I found myself after the walk.
Soft snow gently fell about me and the woods were utterly silent. And, there is no other way to say or explain it, I felt the presence and love of God. I was comforted and reassured that, no matter what the future might hold, God would be with me.
After the surgery, the chemo and radiation, there was another drug I was asked to take for the next five years. The initial test attempts did not go well for me. I had unbelievable nerve pain in my feet which I found wholly incapacitating. I quit taking the drug and it was at least a week before the last twinges of pain were gone. The doctor and the nurse did not believe this side effect was from the new drug, and I had to agree the research I did seemed to say the same thing. Rather this side effect may have been from the last chemo drug, although the last dose had been almost 3 months earlier. Although no medical person openly agreed to my statement, I think the new drug still somehow triggered the remaining chemo in my system.
Even before this incident, I was hesitant about taking this drug. Similarly, I had agonized and wrestled over the question of whether to go ahead with the chemo originally or not. It was one night at three in the morning, after much thinking ansd prayer, when I made the decision to proceed. Although there were things I didn't like about it and times I suffered from it, I never second-guessed that decision. It had felt right when I made it and it never didn't feel right.
On the other hand, I never felt right taking the five-year drug although I did try it again for a couple of weeks later on, without having the same side effects.
One long-term side effect of the drug is a possible reduction in bone mass. That one worried me a lot as my mother had osteoporosis. As I said to the doctor, I had waited almost my entire adult life to live an acreage lifestyle. My mother's collarbone snapped in the bathtub as she reached over her shoulder with a washcloth. I did not want a collarbone snapping as I threw a bale of hay on the trailer on a hot July day.
Last fall, I did make the decision not to take Arimedix. As I said, it just did not feel right. When I fell from the horse this past August, I fell on hard dry packed ground. Although both my left arm, just below the elbow, and left hip were fractured, nothing was displaced. I did not have to have my arm set, only casted. I did not have to have surgery on my hip, only avoid weight-bearing for 5+ weeks.
I do have to wonder, if I had been taking the drug, whether my bones would've shattered rather than simply cracked. We will never know but I do wonder how much more severe my injuries might have been.
Another side effect of Arimedix, which increases with time as I understand it, is pain and stiffness in the joints. But, on the other hand, exercise is highly recommended as a breast cancer preventative – for everyone and also for women seeking to avoid a recurrence. In fact the World Cancer Research Fund and other organizations suggest recurrence of any cancer can be reduced by as much is 45% for those who spend at least 2 ½ hours a week in moderate intensity physical activity.
How much exercise would I do if my knees were stiff and sore? I preferred the exercise route to avoid recurrence much more to the drug route. Of course, I'm not exercising very much right now but I will be working back up to a minimum of 10,000 steps per day as soon as I can. Of course, there are no guarantees either way, anyway.
My point here is that everybody should stop and take time to be silent. How can you expect to hear God or your intuition over the TV program playing in the background, the notifications beeping on your phone, the demands from your kids, the needs of your husband or the frantic following of breaking news when events like the Las Vegas massacre occur? Silence today is rare. I know there are many people who are uncomfortable with silence, and yet it is in the silence that we can hear God. Psalm 46, verse 10  "Be still and know that I am God."
Similarly no doctor, however well trained and educated, knows your body like you do. I know there are people who suffer from hypochondria and worry needlessly, but for most of us if it feels like something is not right, then indeed it is probably not right. Follow your instincts.
So during my own journey, there were four significant moments when I felt guided in my decisions: the initial experience at the sweat lodge camp, my pause in the woods prior to surgery, when making the decision to go ahead with the chemo and when making the decision not to take the five-year drug.
One very small point made by last year's speaker at Pink Night is something I have thought about a lot. She mentioned itching. Even before that, I had heard or read that a symptom of breast cancer can be itching in the breast. However, I'd always assumed that meant the entire breast would be itchy. It wasn't until I heard Toni Ducklow speak that I realized I too had had this symptom.
It was a very small thing. Simply that at the end of the day where the strap of the bra ran under my breasts, under the left one it would be a little bit itchy. When I would take my bra off to put on my pyjamas, I would simply rub there a couple of times and it would be fine. I attributed it to irritation from the tightness of the brassiere, which honestly I have never enjoyed wearing. It wasn't until Ducklow's reference to itching that I thought back and made the connection and realized it was always on the left side and never the right where that irritation occurred.
Just a little tip, something to be aware of. When documentaries, articles and medical people tell you about symptoms to watch out for, they don't always give you the fine details.
We probably all heard the one in nine number – one out of every nine women in Canada is expected to have breast cancer at some point in her life. While that is a bit of a scary number, we also need to remember that today only one in every 29 women will actually die as a result of meta-sized breast cancer. What's important to remember is that 30 years ago, in the mid-1980s, more women were dying from breast cancer.
Early detection does help, as does the fact that there are far better targeted therapies now. I mentioned receiving an entire year's worth of drug infusions; this was a specific antibody to a protein found in my main tumour. That is a relatively new drug and combats what could be a more aggressive cancer.
With one in nine women expected to receive the diagnosis, you are likely to face one if not in yourself then amongst family members or close friends. Breast cancer does touch us all and so I thought I would give a quick overview of what to expect.
As I said, after the "bad" mammogram, you will need a biopsy. That means local freezing – yes an needle in your breast, although that was not as bad as I thought it would be – and then another needle which goes down into the tumour and extracts a part of it. Waiting is a big part of breast cancer diagnosis, and treatment. You wait for the biopsy, although not months, and you wait for the results. Then you wait for the surgery date if that is what is called for.
After the surgery, you wait for the lab results again. In my case because a lymph node was involved, I was referred to the Cancer Centre. Now we waited to see the chemo oncologist, although again not very long. Prior to the chemo, I had to have an echocardiogram and I had several of them over the next year as the drugs can be hard on the heart. Also prior to the chemo, I had more surgery when the port was installed in my arm. The port provided access to the IV drugs without the nurses having to hunt for vein each time.
The waiting can seem long but in reality I was pleased at how quickly things moved along. Only four months after the mammogram, the surgery was done and I was already at my first chemo treatment appointment. Those continued every three weeks for 18 weeks. Then I had almost a month off to recuperate a little before starting radiation. That took another five and a half weeks. And then after the radiation I continued to receive the Herceptin drug by infusion every three weeks, although I did not find I had any significant side effects from this drug. I still had to have periodic echocardiograms and I was also sent for a bone scan. Of course bloodwork happened regularly as well.
There is a lot of waiting for appointments, both at home and in waiting rooms. There is a lot of poking and prodding and testing. And for some, like myself, simple daily life can become a big challenge during the worst of the chemo side effects. That is not true for everyone and I know people who worked part time throughout their treatment. That would not have been possible for me.
September 2015 I knew there was trouble in my breast. March 2017 I had my last drug infusion and later that month was at University Hospital again for surgery to remove the port. So it was about a year and a half devoted to dealing with breast cancer, although for the last six months of it I was able to lead a relatively normal life. I know I have heard others say that cancer, successfully treated, takes a year out of your life – that rings pretty true to me, but it is a year worth giving up if it means I can come here again next year to visit you all, and the next and the next and the next.
There are no guarantees. You could do everything right, follow every recommendation to reduce your cancer risk, and still end up with cancer. And of course we all know of those folks who live unhealthy lifestyles, eventually dying of old age in their 90s or beyond. Giving up a year of my life for cancer treatment doesn't mean that I'm cured; it only increases the likelihood of non-reoccurrence.
That being said, I want to leave you with two pieces of advice. One is to take the time to be aware of your body and to trust your intuition if you feel something is wrong. Take time to listen to God, or the universe or higher power or your own inner knowing – whatever your belief system allows. But do seek silence occasionally and listen.
The other is to exercise. Physical activity – even as simple as a brisk walk daily – is now proven to be so very, very beneficial. Exercise not only reduces your risk of cancer, even reoccurrence of cancer in existing patients such as myself, but also heart disease, stroke, diabetes and a myriad of other health concerns. Speaking for myself, not long ago I came across an article on walking meditation and I can't wait to wander among the trees in our shelterbelt felt, breathing fresh air, praying and exercising, all at the same time. Sounds like a win-win to me.