The Wilkie Outlaws – a men's hockey team that started play in the 1914-15 season and 100 years later is still going strong, winning both the 2015 Sask West Hockey League and the Saskatchewan Senior Men's C Championship titles.
Following is a list of players, as complete as it has been possible to assemble, starting with the 1916-17 season all the way to the 2014-15 season. The list is presented here in chronological order. A list of players in alphabetical order is available in the new book, 100 Years of Outlaw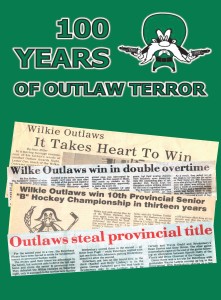 Terror, released just in time for the Outlaws' 100th anniversary celebrations taking place in Wilkie, Saskatchewan, July 31 and August 1 and 2, 2015. The book will be available at the anniversary celebrations as well as from current Outlaw executive members, 100th anniversary committee members and at the Unity Wilkie Press-Herald office in Unity, Saskatchewan.
For mail order copies, please let us know in the comment form below. Do NOT provide payment information or your full address – we will respond by email and then get the details by telephone for better security of your information.
If you are a current or former player and we have your information wrong, please let us know so we can correct it.
Genereux                          1916-17
Irvine Charlie (C.E.)         1916-17
Jacobs                                   1916-17
Knapp                                   1916-17
McNeil                                  1916-17
Spooner                               1916-17
Starin                                    1916-17
Clarke Billy                          1916-19
Miller Harry                        1916-19
Suttle Leo                            1916-19
Cushing Stewart               1916-21, 1924-35
Edmundson, Ted              1916-27
Chambers                           1917-18
Grower                                1917-18
Sheilds                                  1917-18
Lambert                               1917-21
Balmer Johnny                  1918, 1920, 1923
Woodyard                           1918, 1921
Ferguson J.                         1918-19
McKaskell                            1918-19
Campbell Mort                  1919-20
Cushing C                            1919-21
Edmundson George       1919-22
Kirkland Andy                    1919-23
Scott Herb                           1919-27
Collinson Ben                     1920-21
Higgins                                  1921-22
Hill                                          1921-22
Murdock                              1921-22
Reid Archie                         1921-22
Saunders                             1921-22, 1926
Ramsay                                 1921-23
Kennedy Len                     1921-23, 1927
Cranston                              1922, 1925
Lewis                                     1922-23
Mutchimor Jack                                1922-23
Palmer Keith                      1922-23
Clement P.                          1922-23, 1925
Robinson J.                         1923, 1924
Roach Tommy                   1923, 1925
Johnson                               1923-4
McGee                                 1923-24
Palmer J.                              1923-24
Skeene George                   1923-24
Hall                                         1924-25
Learmouth B.                     1924-25
Roche T.                               1924-25
Donaldson G.                     1924-29
Hoehn Joe                          1924-29
McDonald Roy                   1924-29
King                                       1925-26
Lauman                                  1925-26
Moffat                                  1925-26
Pace                                      1925-26, 1928
Whittles Art                        1925-27
Barber                                  1926-27
Course                                  1926-27
Gould                                    1926-27
Hay                                        1926-27
McCallum                            1926-27
McIntosh                             1926-27
Mundell                               1926-27
Wilson                                  1926-27
Whittles Les                       1926-30
Balfour                                 1927-28
Brandt                                  1927-28
Kidd                                       1927-28
McKenzie                            1927-28
Miller Earl                            1927-28
Gunn Ken                            1927-29
Edwards Art                       1928, 1930, 1933-35
O'Brien Art                          1928-1930
Bentley                                  1928-29
Hemmerling Tony            1928-29
Klaehn                                  1928-29
Lloyd Maurice                    1928-29
Park                                       1928-29
Stewart                                   1928-29
Stott H.                                 1928-29
Warren Bob                        1928-29
Badrock                                1928-30
Rudd Charlie                      1928-30
Seaman Roy                       1928-30
Silver Ron                            1928-30
Turnbull Allan (Tubby)   1928-30, 1933-36
Corscapden                        1929-30
Jourdenais                          1929-30
McVicar Chas.                    1929-30
Silver Art                              1929-31
Badger                                  1930-31
Cairns                                    1930-31
Donald                                  1930-31
Jones (Fatty)                      1930-31
Schwab                                   1930-31
Shepherd Bert                  1931-32
Graham Ralph                   1933-34
Howie John                        1933-34
Stocks Murray                   1933-34
Tucker Keith                       1933-34
Whittles Mel                      1933-34, 1938
Dinsley Howard                    1933-35
Turnbull Rod                      1933-35
Moore George                  1933-36
Schrump Jim                      1933-36
Smith Bill                              1933-38
Schrump John                   1934-35
Schrump Sid                       1934-35
Thomas E.                           1934-36
Nelson Tom                        1934-36, 1939, 1941-46
Haymond                            1935-36
Melynick                              1935-36
Forsythe Jim                      1936, 1938
Code Jim                              1936-37
England E.                           1936-37
Furness Frank                    1936-37
Holzman                              1936-37
Janowsky                            1936-37
Loughridge                         1936-37
McIntyre                             1936-37
Roper                                    1936-37
Rothwell Ron                     1936-37
Code Walter                       1936-37, 1950
McIntosh Jim                     1938, 1945-47, 1951-52
Barbour Jim                        1938-39
Holmes Jack (Tiny)           1938-39
Hook Bill                               1938-39
Hopkins                                1938-39
Howitson                             1938-39
Bell Jimmy                           1938-39, 1944
Wandler Joe                       1938-39, 1946-48
Horgan Roy                         1938-41
Rudd Doug                          1938-41, 1945-46
Walby Wib                          1938-43, 1945-47, 1950-52
McDonald                           1938-46
Parr Doug                            1938-47
Chisholm                             1939-40
Dickson Kelly                      1939-40
Smith Robby                      1939-40
Nay Parky                            1939-42
McGillivray Jack                    1940, 1941, 1945, 1949
Dobni Don                           1940-41
Frank                                     1940-41
Jackson Orville                  1940-41
Jahner Andrew                 1940-41
Knisley Ken                         1940-41
McCarkle                             1940-41
Rush                                      1940-41
Gammon Peter                 1940-42
Mann H.                               1940-42
Schucks Andrew               1940-42
Summers                             1940-42
McGillivray Bob                 1940-42, 1945-48
Knisley Don                        1940-42, 1945-49
Knisley Roy                         1940-42, 1945-51, 1953-54
Rea Don                               1940-42, 1946
Beggs Allen                         1940-43
Beggs Don                           1940-43
Burns Robbie                     1940-46
Samchuk Kenny                    1940-46
Clements Max                   1940-49
Walby Graham                  1940-49
Crang                                    1941-42
Schucks John                     1941-42, 1946-47
Gillen Joe                            1941-42, 1946-64
Stephenson Ken              1941-45, 1951-54
Bell Lloyd                             1941-49
Mitzel                                   1942-43
McEwan Jim                       1942-43, 1946-48
Courtright D.                      1942-44
Clements C.                        1942-46
Rutherford Harold           1942-46
Silver Allen                          1942-46
Warner                                 1943-44
Loik                                        1943-45
Howell David                      1943-46
Nicol                                      1944-45
Stewart S.                           1944-45
Burns George                    1944-46
McIvor George                 1944-46
Phillips                                  1944-46
Vieaux J.                              1944-46
Wandler P.                          1944-46
Beatty Earl                          1944-47
Jacobson Cliff                    1944-48
Goddard Archie                     1944-49
Hoffman Delmar              1944-50
Gendall Marvin                 1945-1946
King                                       1945-46
McGill                                   1945-46
Poulard                                1945-46
Silvernagle Gabe              1945-46
Silvernagle Jack                 1945-46
Jonasson Jack                    1945-46, 1954
Fawell Ken                          1945-47
Jeffery Blair                        1945-47
Edmundson Teddy          1945-48
Rivett Merle                       1945-48
Rea Jim                                 1945-48, 1958-60
Clements Glen                  1945-49
Stephenson Jack              1945-50
Adams Joe                          1945-54
Peerenboom R                 1945-56, 1961-62
Peerenboom Richard     1945-56, 1961-62
Martin Don                         1946-47
Bray Fred                             1946-48
Clements Larry                  1946-48
Perkins Max                       1946-48
Roberts Bud                       1946-48
Moss Lloyd                         1947-48
Robertson D.                     1947-48
St. Jean Herb                     1947-48
Bronson Lloyd                   1947-49
Young Jack                          1947-52
Gendall Ed                          1947-59
Herron Bob                         1948-49
Henderson Alvin              1948-49, 1953-56
Holmwood Dale                    1948-49, 1953, 1954, 1956
Henderson Buck               1948-49, 1953-54, 1956
Raisbeck Jim                       1948-51, 1961-66
Clements Max                   1948-53
Totland Lawrence (Twitch)          1948-53
Lubeck Jerry                       1949-50
Waldner Harvey               1949-50
Keller Wendy                     1949-52, 1962-63, 1966-67
Acton                                    1950-51
Armstrong                          1950-51
McDougal Vern                 1950-51
Orr Don                               1950-51
Peerenboom Jacky         1950-51
Rayburn Gordon              1950-51
Shury Harold                      1950-51
Steward Glen                    1950-51
Sander Joe R.                     1950-51, 1953
Kolojay Stan                       1950-52
Keller Ralph                        1950-53
Adams Joe                          1950-54
Schai Teddy                        1950-54
Weber Pete                       1950-57
Weber Rudy                       1950-67
Weber Rudy                       1950-67
Storey Brian                       1951-52
Edwards Jimmy                 1951-54
Hemsworth Bob               1952-53
Quinlan Don                       1952-53
Donald Dale                        1952-53, 1956-60
Holmwood Jim                  1952-54
Keller Joe                            1952-56, 1967-68
Bagnall Bill                           1953-54
Edwards R.                          1953-54
Ellefson Jacky                    1953-54
Hilsendager Bob               1953-54
Interman Bob                    1953-54
Kuntz Bill                              1953-54
Mohegan                            1953-54
Ramsay R.                           1953-54
Voss William                       1953-54
Weber Andy                      1953-54
Druchet Jim                        1953-55
Sander Joe                          1953-56
Schai Garnet                      1953-56
Weber Ed                            1953-58
Kupser Arnold                   1953-61
Reil Art                                 1953-64
Crilley                                    1954-55
Weber Ben-Big                 1954-55
Gryba Stan                          1954-56
Weber Ben                         1954-57
Cey Bill                                  1954-59
Fahl John                             1954-70
Bell Bruce                            1955-56
Bojack C.                              1955-56
Gathkin                               1955-56
Grill Bobby                          1955-56
Hartt Garry                         1955-56
Hartt Warren                     1955-56
Keller Ed                              1955-56
Lang Eddie                          1955-56
Sander L.                             1955-56
Golberg Barry                    1955-57
MacIntosh Reg                  1955-57
Keller Adam                       1955-58
Stockton Bob                     1955-58
Hauck Moose                    1955-62
Cox Bill                                  1956-57
Hauck Rusty                       1956-57
Lindsay Don                        1956-57
Schenn John                      1956-62
Pschenitschnig John       1956-67
Frehlich Wilferd                  1957-58
Henderson Boyd              1957-58
Nelson Jack                        1957-58
Shury Garry                        1957-58
Nykiforuk Dale                  1957-59
Buchanan Dwayne          1958-59
Simons Ray                         1958-59
Swanson Howard             1958-61
Gordon Bruce                    1959-60
Craig Dick                             1960-61
Ostrasky                              1960-61
Rathberger Lorne            1960-61
Wolkowski Henry             1960-61
Bettcher Wayne               1960-62
Flanagan Irl                         1960-62
Remenda Bill                      1960-62
Palahicki Orest                  1960-67
Schwab Val                         1960-75
Ayrchuck Ken                    1961-62
Cook Bert                            1961-62
Lawson Ernie E.                 1961-62
Smith Robert                     1961-62
Hartman Frank                  1961-64
Hilsendager Jerry             1961-64
Berscheid Leo                    1962-63
Robson Robbie                 1962-63
Young Dave                        1962-63
Sander Mike                      1962-63, 1965-69
Huber Bill                             1962-63, 1965-66
Davison Wally                    1962-66
Risling Larry                        1962-66
Evertt Doug                        1963-64
Fischer Pius                        1963-64
Lipka Alex                            1963-64
Sklar Roy                              1963-64
Wakelin Don                      1963-64, 1969-73
Walby Bill                             1963-70
Ahenakew Ray                  1964-66
Hrapchuk Jules                  1964-66
Fehr Bud                              1964-68
Hallgrimson Glen              1964-68
Knisely Doug                      1965-66
Banack Walter                   1965-66, 1969-77
Lorenz Wally                      1965-67, 1975-80
Brauson                               1966-67
Knisely Dewie                    1966-67
Petch Geo.                         1966-67
Remier Ed                           1966-67
Lorenz Tony                       1966-68, 1972-78
Weisbeck Pat                     1966-69
Thomas Brian                     1966-72
Cey Bruno                           1967-68
Cey Donald                         1967-68
Martin Malcom                 1967-68
Sander Ray                         1967-68
Sander Tony                       1967-68
Regush Ernie                      1967-69
Garner Jim                          1967-70
Tebay Dennis                     1967-73
Holzman Ed                        1967-75
Huber Jim                            1968-69
Lindsay Barrie                    1968-69
Wandler Chris                    1968-69
Wandler Phil                      1968-69
Mercereau Ray                 1968-70
Wandler Joe                       1968-70
Thomas Bill                         1968-71
Phelps Edgar                      1968-73
Schell Myron                      1968-74
Franks David                      1969-70
Walby Craig                        1969-70
Weinkauf  August            1969-70, 1972-73
Elder Arnold                       1969-71
Banack Franck                   1969-72
Frehlich Glen                     1970-71
Frey Dennis                        1970-71
Germsheid A.                    1970-71
Scharger Sid                       1970-71
Sieben Ervin                       1970-71
Johnston Ross                   1970-72
Schell Herb                         1970-84
Gutting Dennis                  1971-72
Peterson K.                        1971-72
Wasmann Dale                  1971-72
Bojarski Larry                     1971-73
Miller Glen                          1971-73
Beaudoin Phil                    1971-74
Metlewsky Terry              1971-76
Lorenz Val                           1971-77, 90-91
Knisely James-Bic             1971-79
Horback Russell                1972-73
Cameron Rick                    1972-74
Cote Don                             1972-74
Volk David                           1973-74
Weinkauf Gerry                     1973-74
Sander Rick                         1973-75
Weinkauf Ray                    1973-75
Schell Eric                            1973-78
Cey Gerry                            1973-78, 1981-86
Gerein Don                         1974-75
Horback Laverne              1974-76
Ulmer Lee                           1974-76
Young Don                          1974-76
Cey Kevin                            1975-76
Dornstauder Dave           1975-76
Gehlen Tom                       1975-76
Hofer Dave                         1975-76
Merkowsky Byron           1975-76
Hofer Ross                          1975-77
Cey Lester                           1975-78, 1980-86
Fenrich Wayne                  1975-79
Johnson Dale                     1975-86
Cey Ken                              1976-77
Lorenz John                        1976-77
Griffiths Ed                         1976-78
Keller Bruno                       1976-82
Carberry Harvey               1977, 1980-81
Cey Roger                           1977-91
Walker Stu                          1977-78
Kappel John                       1977-79
Cey Bob                               1977-79, 1981
Cey Harold                          1977-79, 1982-86
Boskill Ron                          1977-81
Fairweather Murray       1977-81
Haggard Bryon                  1977-81
Fenrich Marvin                  1978-79
Genest Brent                     1978-79
Marchuck Tim                    1978-79
Mazur Larry                        1978-79
Leidl Reg                              1978-80
Ziegler Dwayne                 1978-80
Nielsen Lorne                    1978-80, 83-00, 03-04, 10-13
Keller George                    1978-82, 1985
Blanchette Bernie            1979-8
Found Dallas                      1979-80
George David                    1979-80
Terlesky Greg                    1979-80
Knisely Dean                      1979-81
Wagner Don                       1979-82
Boskill Gary                         1979-83
Pernitsky Dwayne           1979-86
Cey Joe                               1979-86, 1994-96
Cey Jamie                            1979-90, 1992-93
Griffiths Rob                      1979-98, 2009-13
Gerein Duane                    1980-86
Szyda Mark                         1980-86
Miller Grant                        1980-90
Paranica Darrell                 1981-82
Miller Dean                         1981-82, 1985-91
Merkowsky Brennan      1981-86
Nielsen Les                         1981-93
Nielsen Blake                     1982-83
Pachal Clayton                   1982-85
Bachman Rick                    1982-95
Hallgrimson Mike             1983-88
Gancher Glen                    1984-86
Hudson Ray                        1985-87
Bachman Trevor               1985-88
Fiest Cliff                             1986-06
May Rich                              1986-87
May Rod                              1986-87
Denton Greg                      1986-87, 1995-97
Fraess Trevor                     1986-88
Newton Jim                        1986-89
Huber Dwayne                  1986-91
Huber Darrell                     1986-92, 1994-96
Gampe Lindsay                 1986-93
Matwychuck George      1986-93
McNally Kevin                   1987-88
Risling Jeff                           1987-88
Weber Dean                      1987-88, 1992-93
Keith Blair                            1987-89
Keith David                         1987-89
Kappel Lyndon                  1987-90
Yockey Bruce                     1987-99, 2005-15
Acton Allan                         1988-89
Braybrook Bob                  1988-89
Edwards Mike                   1988-89
Bradshaw Bruce               1988-90
Bagnall Travis                     1988-92
Sanoy Miles                        1989, 90
Fraess Mark                       1989-90
Miller Brad                          1989-90,91-92,02-05
Yockey Derrick                  1989-95
Cey Dave                             1989-96
Cey Andy                             1990-91
Murry Darrel                      1990-91
Sieben Alvin                       1990-91
Sproule Leonard               1990-91
Bartel Robin                       1990-94
Mann Duane                      1990-94
Miller Josh                          1990-96
Huber Tyler                        1991-92
Sarasin Dean                      1991-92
Bagnall Trent                      1991-92, 1994-95
Feser Colin                          1991-93
Cey Gary                              1991-95
Halter Jason                       1991-96, 2001-07, 2009-10
Kortko Roger                     1992-93
Risling Jos                            1992-93
Leidl Wayne                       1992-94
Ehrmantraut Lyle             1993-94
Murray Darry                     1993-94
Lehmen Darren                  1993–94
Briltz Keith                          1993-95
Neath Dennis                    1993-95
Short Trevor                       1993-95
Sieben Les                          1993-95
Struch Rob                          1993-95
Taylor Rob                           1993-95
Zacharius Derek                    1993-96
Johnson Don                      1993-97
Cey Jeff                                  1994-2001
Bleier Wade                       1995-2000
Lucas Kip                              1995-2001
Lorenz Aaron                     1995-2010
Cey Morgan                       1995-96
Cey Sheldon                       1995-96
May Brent                           1995-96
Campbell Graham            1995-97
Cummins Barry                 1995-97
Day Brent                            1995-97
Mitzel Jason                       1995-97
Holzman Jeff                      1996-2001
Pooyak Dean                     1996-97
Pooyak Dwayne                  1996-97
Shury Greg                         1996-97
Weber Travis                     1996-97
Wuttnee Sheldon            1996-97
Cey Mathew                      1997-03
Volk Sheldon                     1998-02
Barth Jamie                        1999-02
Keller Ian                             1999-02
Schommer Mike               1999-03
Dushise Chris                     1999-2000
Jensen Ian                          1999-2000
Johnson Brad                     1999-2000
Miller Mathew                  1999-2000
Murray Aldred                  1999-2000
Sookocheff Kevin            1999-2000
Tavanetz Clarke                 1999-2000
Coleman Wayne               1999-2001
Horbach Nolan                  1999-2001
Hyndman Glen                  1999-2001
Kuntz Brad                          1999-2001
Stewart Craig                     1999-2001
Trapp Jason                        2000-01
Weese Justin                     2000-02
Stadnyk David                   2000-03
Hepburn Colby                  2000-04, 2005-06, 2008-09
Myszezyszyn Mark          2000-05
Cey Kent                              2001-02
Jensen Rory                       2001-02
Keller Travis                        2001-02
Weese Brett                      2001-02
Schell Doug                         2001-03
Schmyr Aaron                    2001-03
Schell David                        2001-04, 2010-13
Sander Curtis                     2001-15
Lorenz Chris                       2002-03
Lorenz Ryan                       2002-03
Sack Travis                          2002-03
Whyte David                      2002-03
Nielsen Trevor                  2002-04, 1905-06
Shepherd Jerry                 2002-07
Dornstauder Brent         2003-04
Amos Richard                    2003-04
Martin Adam                     2003-04
Risling Troy                         2003-04
Carberry Quinlan              2003-04, 2008-09
Kolenosky Ryan                  2003-06
Greenwald Dustin           2003-07
Gerein Mike                       2003-08
Gerein Brent                      2003-11
Lorenz Adam                     2003-15
Erker Craig                          2004-05
Youst Dallas                        2004-05
Laternus Kyle                     2004-06
Philips Brandon                 2004-06
Roesch Tyler                      2004-07, 2009-10
Pernitsky Justin                   2004-10
Bachman Bobby               2004-11
Gerein Brett                       2004-14
Lorenz Mark                       2004-15
Harter John                        2005-06
Hepburn Trevor                 2005-06
Nelson Mike                      2005-06
Keller Jordan                      2005-06, 2007-08
Johnson Deon                   2005-11
Wagner Kyle                      2005-15
Greenwald Dylan             2006-07
Salewski Kody                   2006-07
Wolf Ron                             2006-07
Wagner Mike                     2006-08
Dueck Aaron                      2006-09
Pernitsky Nick                   2006-11
Roesch Curtis                     2006-11
Herle Jared                         2006-15
Sittler Mike                         2006-15
Bosch Tyler                         2007-08
Hawthorne Drew             2007-08
Madson Chris                    2007-08
Carberry Lorne                  2007-09
Desjarlais Tim                    2007-10
Bentley Erik                        2008-
Cey Ryan                             2008-09
Frehlich Brad                      2008-09
Johnson Brad                     2008-09
Wagner Jared                    2008-10
Pernitsky Anthony          2008-11
Cey Rick                               2008-15
Griffiths Lorne                   2008-15
Penner Barrett                  2008-15
Rathje Will                          2008-15
Cey Trent                            2009-10
MacMillan Graeme         2009-10
McMillan Graen                  2009-10
Scheafer Ryan                   2009-10
Wisner Mike                      2009-10
Basler Brandon                 2010-11
Duncan Brad                      2010-11
Ulrich Cody                         2010-11
Watt Tory                            2010-11
Zoller Nic                             2010-11
Suchan Mitch                     2010-15
Keller Robert                     2011-15
Schell Brett                         2011-15
Glackin Dustin                   2012-15
Sutherland Derek            2012-15
Thomas Riley                     2012-15
Nelson Sawyer                  2012-23
Glassford Kirklan              2013-14
Griffiths Brandon             2013-14
Bannerman Blake            2013-15
Herle Andrew                    2013-15
Keller Derek                       2013-15
Gregoire Riley                   2014-15
Harrison Brett                    2014-15
Harrison Brock                   2014-15
Johnson Kurt                     2014-15