See the Unity-Wilkie Press-Herald, July 29, 2013, for a story about mustard on the front page and, in the general Scott Research Farm Field Day story on page 8, information about a new herbicide being tested on peas.
Scroll down for links to vidoes on wild oat control and mustard fertility. Below those links are articles on carinata and canola seeding rate experiments.
Wild oat control
Wild oats are the number one weed on the Prairies, costing farmers $500 million – half a billion dollars — every year.
Dr. Neil Harker, a research scientist with Agriculture and Agri-Food Canada in Lacombe, Alberta, spoke about a multi-year trial which has been looking at ways to reduce wild oats without using herbicides.
Organic farmers often use higher seeding rates to make their crops more competitive with wild oats. Taking a long-term approach, both fall seeded crops and cutting crops early for silage prevents the wild oat seed heads from maturing, reducing the incidence of wild oats for the following year.
Click here to see a portion of Dr. Harker's presentation: http://www.youtube.com/watch?v=yc6MP8qy5_s
<iframe width="560″ height="315″ src="//www.youtube.com/embed/yc6MP8qy5_s" frameborder="0″ allowfullscreen></iframe>
<object width="560″ height="315″><param name="movie" value="//www.youtube.com/v/yc6MP8qy5_s?version=3&amp;hl=en_US"></param><param name="allowFullScreen" value="true"></param><param name="allowscriptaccess" value="always"></param><embed src="//www.youtube.com/v/yc6MP8qy5_s?version=3&amp;hl=en_US" type="application/x-shockwave-flash" width="560″ height="315″ allowscriptaccess="always" allowfullscreen="true"></embed></object>
<iframe width="560″ height="315″ src="//www.youtube.com/embed/QlXSUBAxzMg" frameborder="0″ allowfullscreen></iframe>
Mustard fertility
Eric Johnson, officer in charge at Scott Research Farm, speaks about how and what to use for fertilizing mustard: http://www.youtube.com/watch?v=QlXSUBAxzMg
Carinata seeding rate experiment
Test plots illustrating the effect of seeding rates for both carinata and mustard were viewed by attendees at the Scott Field Day.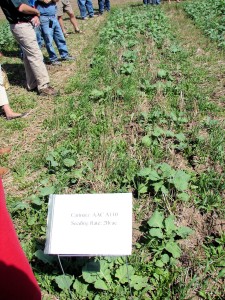 One of the presentations on carinata – Ethopian mustard – showed the results of seeding rate on plant populations and density.
Optimum plant density for carinata is 8 to 16 plants per square foot.
The photo at left shows the plant density achieved at the low end of a 2-pound per acre seeding rate.  Compare to the photo below which shows plant density resulting from a 12-pound per acre seeding rate.
Test plots also demonstrated density at 4, 6, 8 and 10 pounds per acre.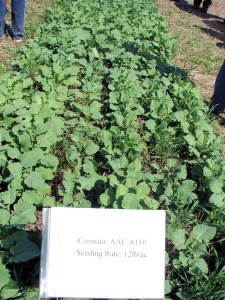 Eric Johnson,  Ag Canada's officer in charge at Scott Research Farm, said that, although there is a recommendation "out there" of seeding carinata at 6 pounds per acre, it took a rate of 10 pounds per acre to achieve the minimum recommended plant density populations. At a 6-pound seeding rate, they were only getting about 5 plants per square foot.
Johnson emphasized plant populations are critical for weed control, and ultimately optimum yield. Denser stands also tend to mature at a more even rate. The same principles apply to hybrid canola.
Canola seeding rate experiment
Sherrilyn Phelps, crop specialist with the Saskatchewan Ministry of Agriculture, followed up by talking about seeding rates and seed size in canola establishment.
She started by saying "we're putting big dollars in at seeding time and one of the biggest impacts we have is those decisions that we make at seeding time…. We don't have establishment with canola, you just don't have a crop. And at that time of year, at seeding time, is when we have … – as producers or agronomists or retailers – we have the most influence and input on how that crop is going to come up."
Factors affecting establishment are seeding depth, seeding rate, the amount of seed placed fertilizer, seeding speed and seeding date.
The date reflects the importance of soil temperatures. This year canola crops had great germination and fast emergence because of the later start to the year and thus the warmer soil temperatures from the get-go.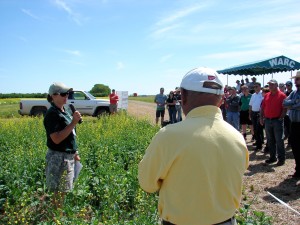 The target or recommended population for canola is 7 to 10 plants per square foot while the minimum density, when yield decreases start showing up, is 4 plants per square foot. If not putting enough seeds in the ground to get 4 plants per square foot, you are "already setting yourself up for failure," said Phelps.
Three different sizes of canola seed were seeded at 3 pounds per acre and 5 pounds per acre.
At 3 pounds per acre, there were 170 of the smallest seeds in the ground in a square metre but only 32 plants came up. There were 55 of the middle-sized seeds sown per square metre of which 30 came up. With the biggest seeds, only 41 seeds went in but again 30 came up.
The plant density was essentially the same in all three plots, even though emergence varied from 30 per cent with the smallest seeds to 70 percent with the largest seeds. However, at 30 plants per square metre or roughly 3 per square foot, minimum plant density wasn't achieved with any of the seed sizes when seeding at 3 pounds per acre.
Increasing the seed rate to 5 pounds per acre got the plant density up above the minimum for all three seed sizes. Again the emergence rate varied — from 30 per cent for the smallest seed to 75 per cent for the largest.
Phelps concluded by encouraging producers to evaluate all factors at seeding time, including ensuring the number of seeds needed for minimum plant density are going into the ground.
"Once you don't have establishment, the only other option is reseeding and we've done the economics on reseeding and, unless you have crop insurance, the economics just really aren't there for reseeding. It's your one shot at getting a good crop," she said.